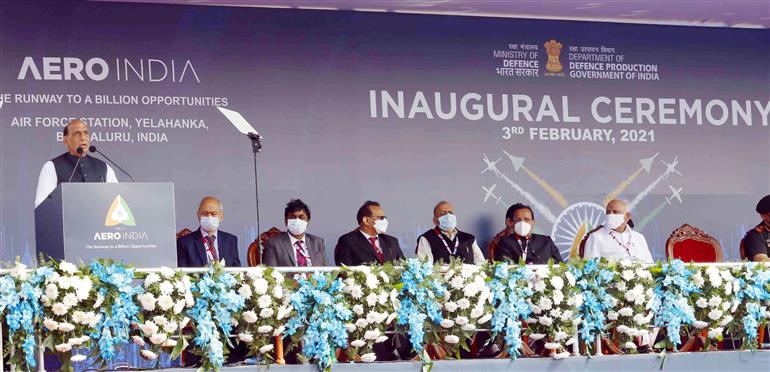 A hearty welcome to you all to Aero India2021.I am delighted to see the Defence Ministers, senior defence officials and business leaders from around the world in this 13th edition of Aero India, the largest Aero show in Asia.
Like previous editions, Bengaluru, the capital of Karnataka State, has been selected to host the event again. Friends! I feel proud to mention here that Karnataka is a sacred, progressive and technologically advanced land, influenced by the thoughts of great BhagwanBasavanna, various Sages, Sufi saints and modern day engineering gems like M. Vishveshwarya.
The existing supply chains, developed over the years by aerospace and engineering firms, an investor friendly government, with simplified procedures and fast-track business approvals through single window clearance mechanism, combine to make Karnataka a very attractive destination for the industry.
I would like to extend my sincere gratitude to the Chief Minister of Karnataka, Shri B S Yediyurappa, who has provided full support in hosting Aero India 2021 here in Karnataka.
The Aero India series of shows, have become an important milestone in the biannual calendar of stakeholders across the world. In the universe of aviation, this show is one of the brightest galaxies, that is accompanied by a wide variety of options, solutions, partnerships and most importantly opportunities. Aero India 2021 continues this journey, that promises to take its participants from the runways to the airways, that crisscross the deep blue skies around the globe.
But like most journeys, this too will bringits unique challenges. And as the last year has shown, no journey can be completed without passing through testing times,through lessons that last a lifetime,through setbacks and falls,through failure and pain. Friends, many a test flight, face the challenge of a false start, aborted attempts, mid-air stalls, only to recoverand eventually find success. Our collective journey through the last year, has been no different.
The year 2020 has been a challenging year for the entire world, and has adversely impacted the lives, livelihood, industrial growth, and economy of many countries. Steering through the difficult times of COVID-19 pandemic, India has become a leading nation in the world to protect the precious lives of its 1.35 billion people from the pandemic, and is now arranging vaccine not just for its own people,but also for the rest of the world.India has endeavoured to bring out, not one but two indigenous vaccines, (Covaxine and Covishield) and started the largest vaccine drive to inoculate270 million people. Our concern extends to people across boundaries, under which India offers more than 20 million doses to friendly countries. This bears testimony to our strong belief in "Vasudhaiva Kutumbakam", which means the whole world is a family. It also underlines our capability to Make in India for the world.
Despite the constraints caused by the global pandemic, I am pleased to see such a large number of participants in this year's event. It is coming from the world's leading nations in the field of military and aviation. This shows that humanity has tremendous capacity to overcome the adversities and it is ready to convert such challenges into opportunities. It's this spirit, that made us take the plunge and take a lead in organizing such aninternational mega-event which is completely COVID-compliant.
Friends! The Aero India21 will display the vast potential of India, and the multifarious opportunities that our country offers in the field of defence and aerospace sector. Italso promises to be the World's First Ever Hybrid Aero & Defence exhibition. In order to maximize the reach and participation, the event is being conducted in a hybrid format with a concurrent Virtual Exhibition which will integrate the Seminars, B2B interactions, product display etc.It will be not incorrect to say,that Aero India 21 has truly gone digital and global.
I have been informed that about 540 exhibitorsincluding 80 foreign companies, Defence Ministers, Delegates, Service chiefs and officials from more than 55 nations are participating in the event. It reflects the growing optimism of the global community,and thelevel of confidence felt in the emerging capabilities of India.
The gracious presence of Defence and Foreign Affairs Ministers, Service Chiefs, officials and delegates who have arrived from various countries and far-off places, has added a greater significance and value to the event. I am personally grateful to you all. I express my deep sense of gratitude to theDefenceMinisters fromMaldives,Ukraine,Equatorial Guinea, Iran, Comoros and Madagascar who have joined this show in person, and many others who are joining virtually.
Friends! India today offers a unique opportunity in defence and aerospace manufacturing. This opportunity comes as a "Sangam"of rising demand, greater innovation, conducive policies and maturing ecosystem in defence and aerospace manufacturing sector. We have taken many steps to strengthen our security apparatus recently. Domestic manufacturing of bigger and complex defence platforms has now become the focus of our policy under the "Atmanirbhar Bharat Abhiyan". We plan to spend 130 Billion Dollar on military modernization in the next 7 to 8 years.
The sector has been further opened for foreign sector participation and we are encouraging foreign OEMs to set up wholly owned subsidiaries or enter into strategic partnerships with the Indian companies. This event would provide the participating nations and industries,a platform towards forging such collaborations in the Aerospace & Defence sector.
Since 2014, the Government of India has brought in many reforms in defence sector to create a conducive ecosystem for exports, Foreign Direct Investment and offset discharge. The Government of India has enhanced FDI in Defence Sector up to 74% through the Automatic Route and 100% through the Government route, which would act as a catalyst for foreign players to invest in India.
The newly introduced (Buy Global – Manufacture in India) category of capital procurement in Defence Acquisition Procedure 2020 allows outright purchase of equipment from foreign vendors, followed by indigenous manufacture through its subsidiary in India or through a Joint Venture or through an Indian Production Agency. Another newly introduced provision of Make-3 in the Defence Acquisition Procedure 2020 provides for Indian firms to manufacture defence items either in collaboration or with Transfer of Technology from foreign OEMs.
The new Offset Policy announced in October, 2020 focuses on attracting investment and technology transfer by according higher multipliers.
Over the years, the Government of India has facilitated establishment of wide-ranging production facilities, of various defence equipment through Defence Public Sector Undertakings and Ordnance Factories. A large numberofstate-of-the-artweapon systems/platforms/equipment have been designed and developed by Defence Research & Development Organisation,to meet the requirement of the armed forces, through a strong indigenous technology base.
I am happy to inform, that the reforms aimed at bringing ease in doing business, have shown good results. India has recorded a jump of 14 positions against its rank of 77 in 2019 to be placed now at 63rd rank among 190 countries assessed by the World Bank.Industrial licensing requirements have been eliminated for a number of items in the Defence sector. Number of Industrial Licenses have almost doubled in the last 6 years, and more than 500 companies have now taken defence License.
I recognise the presence of the CEOs of Global and Indian Aerospace & defence Majors.
India is one of the fastest growing civil aviation markets in the world.  With rising passenger and cargo traffic, demand for aircrafts and the related supply chains is increasing. 
India therefore holds a huge potential for investments in the aerospace sector, particularly in manufacturing of aero engines and sub-assemblies as well as in Maintenance Repair & Overhaul, of Aircrafts.
I invite the business leaders from across the globe in this field to take advantage of the various initiatives of Govt. of India and set-up manufacturing units in our country. Establishing MRO facilities in India for civilian and military aircrafts will enable operators to achieve faster turnaround times, savings in operating costs.
Shortly after this program, I would be opening the India Pavilion, that showcases our Design and Manufacturing supply chain associated in various facets of the Rotary wing eco-system. It would also provide a glance into the future technologies and possibilities, that will shape the future of Rotary Wing Platforms in India.
I am very happy that HAL has got the orders for development of 83 new indigenous Light Combat Aircraft (LCA) – Tejas MK1A from Indian Air Force valued at more than Rs. 48000 Crore, it is probably the biggest "Make in India" Defence contract till date. India's growing strength and capabilities in Aerospace and Defence sector is now being realised by everyone.
India has developed two Defence Industrial Corridors in the States of Uttar Pradesh and Tamilnadu. These Corridors leverage the existing manufacturing ecosystem in the State which is ideally suited for economic testing and R&D facilities.
With focused attention being laid on promotion of exports of Indian defence products, India is steadily marching from 'Make in India' towards 'Make for the World'.
A high level committee has been constituted, which would authorise exports of major indigenous platforms to various countries, leading to faster approvals for their export.
India has the potential to become a reliable supplier of defence equipment to many of its friendly nations. We have a strong and diversified Micro, Small, Medium Enterprise sector with more than active 5000 units in this sector. We also have one of the fastest growing start-up ecosystems, catering to niche technological areas. Government of India is strengthening it further, through innovative initiatives like iDEX and Defence India Start-up Challenge – 4, young scientist labs, etc. This provides a robust base for our growing private defence manufacturing industry.
With export of components increasing at a fast pace, I would like to impress upon the global OEMs to work hand in hand with the Indian firms.  Become their partners, and by leveraging the available skills and cost competitiveness, integrate them in global supply chains.
Our vision is to make India one of the biggest countries of the world in Defence sector,from design to production, with active participation of public and private sector.To achieve the twin goals of self-reliance and exports, we have set a target to achieve a turnover of Rs 1,75,000 Crore, including export of Rs. 35,000 Crore in Aerospace and Defence goods and services by the year 2024.
I expect that Aero India-2021 will act as a catalyst in realizing our goals and fulfilling the aspirations of global players in the Defence and aerospace sectors. I believe Aero India 2021 will boost investment, expand manufacturing ecosystem, support enterprises, appreciate and enhance the technology levels and propel the economic growth for the country.
While Aero India 21 focuses on providing fillip to economic activity, it also provides an opportunity to discuss our security environment.India has a vast coastline, but our interests also lie beyond our shores. It includes our people who reside and work across continents, especially in Indian Ocean region (IOR). It is our bounden duty to remain capable and willing to assist them in times of natural calamities and security challenges. We also feel responsible to offer assistance and support to all countries in the region. Be it piracy, challenges to security, humanitarian assistance or emergency situations, India has always been ready to offer help.
In this context, during the visit of Hon'ble Prime Minister of India, Shri Narendra Modi ji to Indian Ocean Island States in 2015, a concept for Indian Ocean named SAGAR which means: Security and Growth for All in the Region was visualized. This outlook towards the Indian Ocean Region emanates from the ingrained element of our civilization's basic ethos "VasudhaivaKutumbakam", which means that whole world is a family.
Friends, I am happy to see that this edition of Aero India has laid the strong foundation, of this great vision with Indian Ocean Region Defence Minister's Conclave. It isthemed on "Enhanced peace, Security and cooperation in the Indian Ocean Region". The Conclave is an initiative to promote dialogue in an institutional and cooperative environment that can foster the development of peace, stability and prosperity in the IOR.
Friends, as you are aware, like many of our friendly countries, India also faces threats and challenges emanating from multiple fronts. India is a victim of state sponsored and state inflicted terrorism, which is now a global threat. We have long witnessed unfortunate attempts to employ force to change status quo along our unresolved borders. India is vigilant and prepared to counter and defeat any misadventure to defend our people and the territorial integrity at all costs.
Our resolve towards this end is shown by our growing defence capabilities. The Aero India 21 will showcase this commitment.The Seminars section in Aero India is also powering the dream ofAatmanirbhar Bharat. The seminars are themed on Defence Corridors, future of Civil Aviation in India, Drones and Counter Drones, Indian Helicopter Story, Future of Conflicts, Aero Engines and MRO, Critical and Strategic Materialsand includeoutreach programs by the State Govts on the investment opportunities.
The Aero India seminars will be held in a hybrid format, the speakers as well as the audience will be able to participate in the various Seminars virtually also. They will be streamed worldwide. Their interactions would be conducted by the leading industry forums, international forums, think tanks, media houses, Indian Industry, DRDO, Ministry of Civil Aviation, State Govts etc. Renowned experts have been invited as speakers.
My Dear Brothers & Sisters, Aero India 2021, through both its physical and virtual manifestation, provides the opportunity to create desirable synergies in defence trade, manufacture, and export. I am confident that these three days will prove to be productive and fulfilling. I am also sure that our shared vision and values will forge new relations and carry forth the existing relationships and associations to the next level.
I wish the organisers and participants the very best for the conduct of the event. Once again, I congratulate and appreciate the efforts of Govt. of Karnataka and the Ministry of Defence, in organising this first international mega event.
Now, I declare Aero India-2021 open, and wish for its mega success.
Thank You.